Cross Country Skiing
Cross-country ski races come in all shapes and sizes, and Zone4 has solutions to help you time all of them. In fact, cross-country skiing is where we got our start, it's near and dear to our hearts.
Software Features
Live results, startlists and event pages
Results analysis capabilities for coaches and fans
Announcer tools and TV display support
Live racer tracking and photography integration
Race templates that make setup a breeze for the most popular race formats
Support for many timing inputs:

RapidCam Photo-Finish Camera
Zone4 GoChip System
PhotoCell
Individual Start Wand
Web Keypad (on your tablet or phone)
Summit
Supported Ski Race Formats
Mass Start, Loppet, Ski Marathons
Interval Start Races
FIS Sprint Heats
"Kings Court" style sprints
Skiathlons
Mini Tours & Pursuit Starts
Cross-Country Ski Timing Setup
This an example cross-country ski race setup. The timing points include a start, a finish and optional on-course timing points.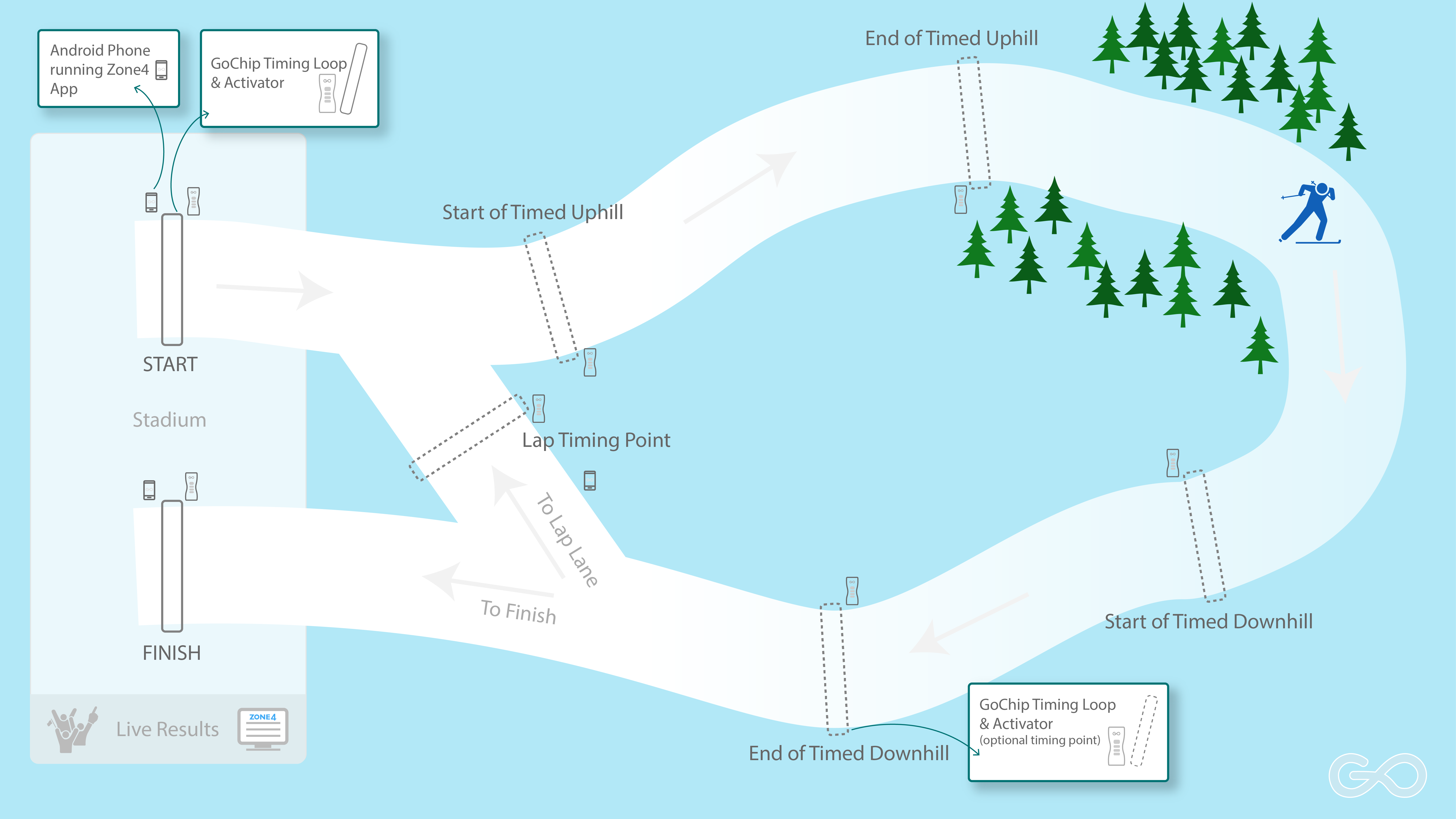 Do you have timed sections on your course such as King/Queen of the Hill? Interested in analyzing racer performance?
On-course timing points are ideal for timing and analyzing racer performance on specific sections of the course. If you're curious where racers gain or lose time, on-course timing points let you see exactly what's happening anywhere on the course.
What Timing Equipment Do I Need?
Equipment needs vary by race format. A minimal GoChip timing setup consists of:
One GoChip Activator and timing loop (for the finish line)
One Android Phone running the Zone4 App, to send recorded times to the internet and record a start time.
A GoChip Timing Chip for each racer.
Add an additional GoChip activator and Timing Loop for each intermediate time you want to record (i.e. lap times, hill climbs). For interval start races, add another activator and GoChip loop to record times from the start gate.
Don't need chip timing?
Zone4's timing software also works great with times recorded on a Summit timer or in our Android app.
Suggested Start Area Setup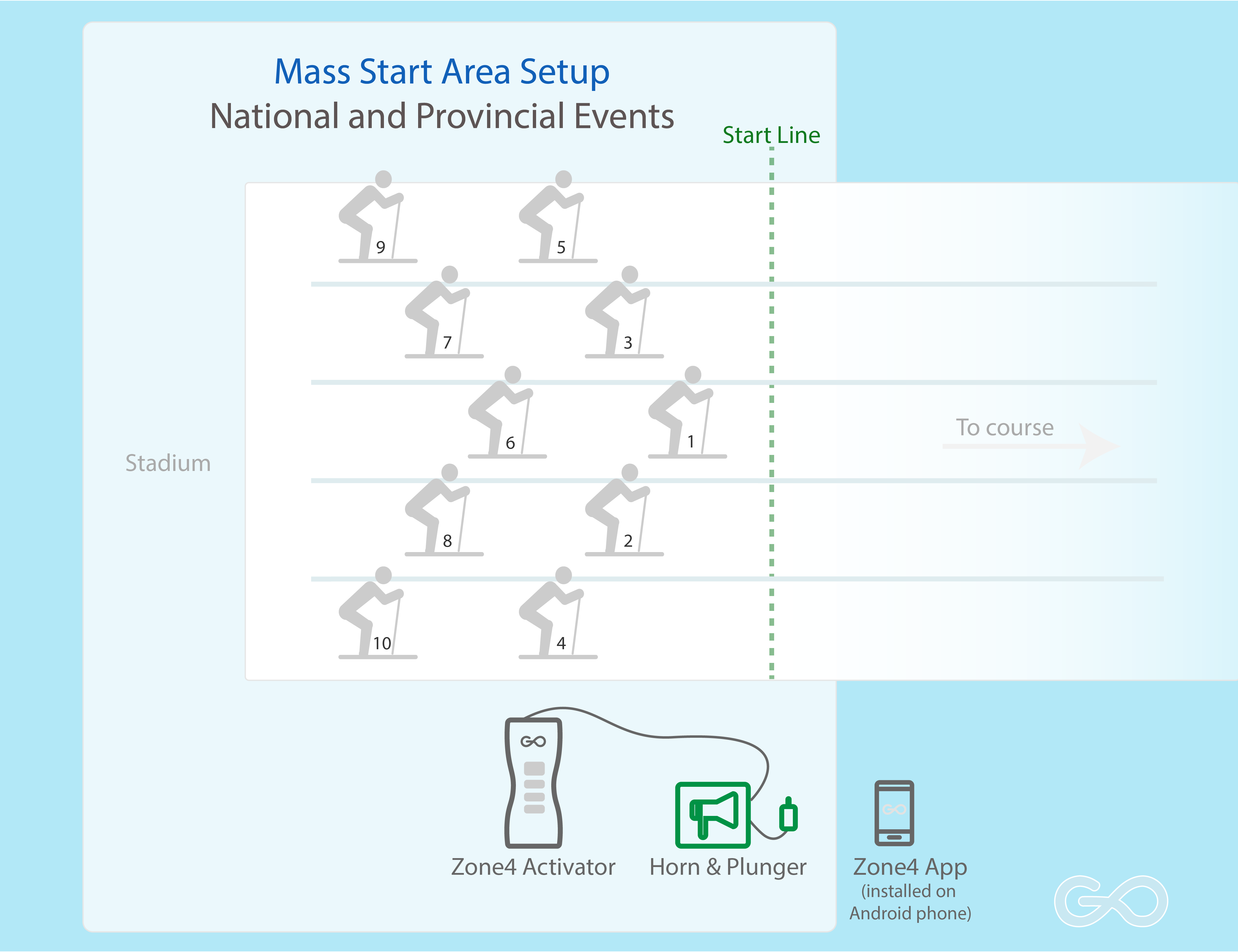 Suggested Finish Area Setup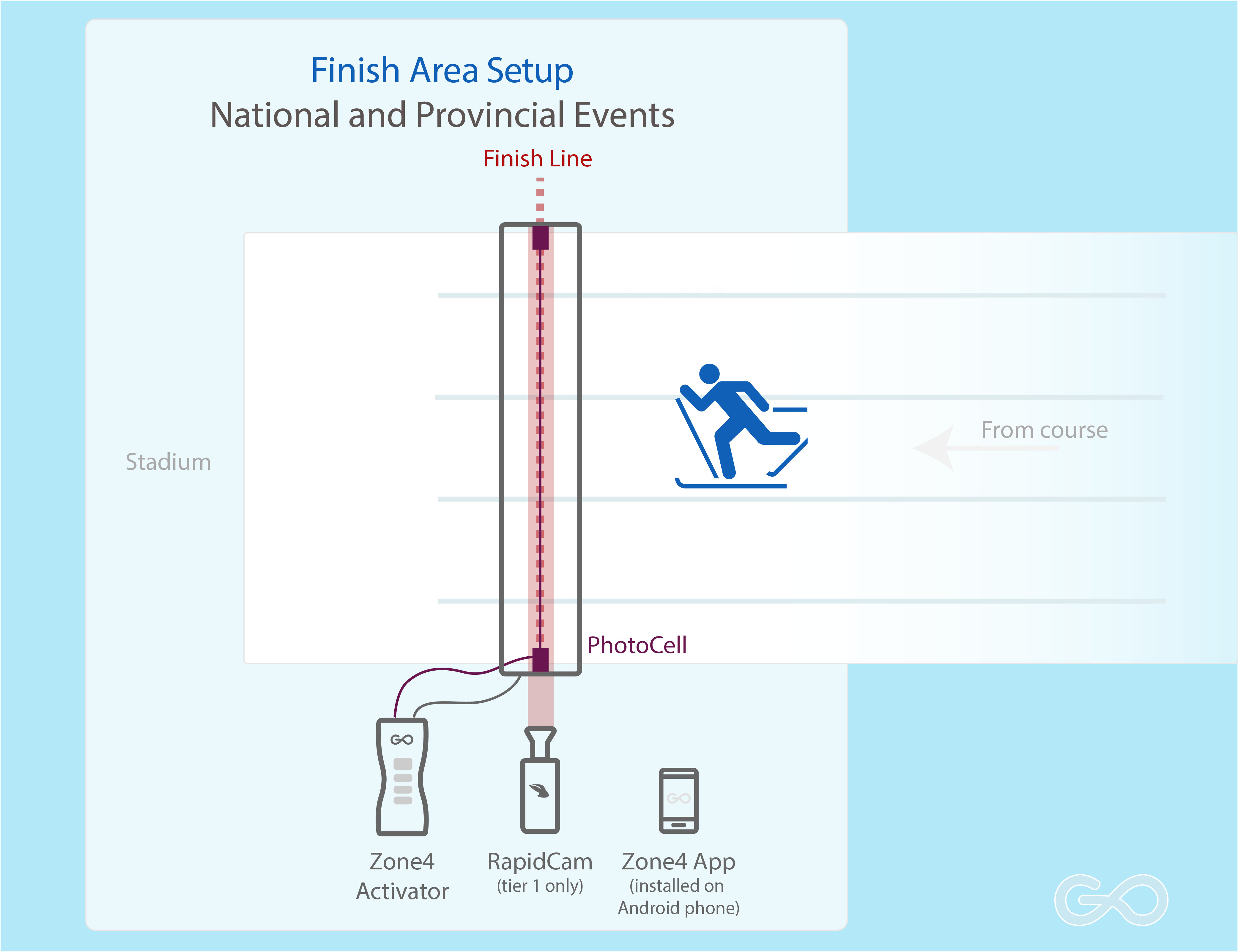 How much does it cost?
We're glad you asked! Check out the Zone4 Rental Calculator to get an estimate of your total timing cost. If you'd like to try it out for free, we can send you a test kit containing a few timing chips and a GoChip Activator.
Ready to book a timing system? Contact us, and we can get you set up.