Enduro Mountain Biking
Enduro racing is awesome. You know it, we know it, everyone knows it. It's where elite athletes, club racers, and recreational riders all come together to do the thing they love. It's about the camaraderie on the climbs, and ripping down gnarly gravity trails. It's about the riding. So keep it that way, make the timing simple, use GoChip.
Software Features
Live results, start lists and event pages
Results analysis capabilities for friends, family, and coaches
Announcer tools and TV display support - fuel the fire, excite the crowd!
Photography integration
Enduro-specific race template makes setup a snap
Great bang for your buck. Zone4 is the same software and timing system used by many clubs across Canada for all kinds of sports. Borrow gear from an affiliated club, or buy it and use it for multiple sports!
GoChip Features
Comfortable, lightweight, and waterproof
Can be worn anywhere you can strap it. Gone are the days of bottlenecks at the finish and racers fumbling with timing equipment.
1/100th-second accuracy and records times at speeds up to 160 km/h
Ultra-affordable - $100/activator for a weekend rental, and several setup options available to save you even more money
Activators are small and light enough to throw multiple into a backpack, strap your helmet on, and set your timing points up anywhere your heart desires
What do I need to time an Enduro?
Highest Precision Timing

2 Activators per Stage

2 GoChip activators & Timing Loops at every stage: one to record stage start, and the other to record stage finish.

Best Value Timing

1 Activator per Stage

1 Android phone running Zone4 App at every stage to record stage start.
1 GoChip activator & Timing Loop at every stage to record stage finish.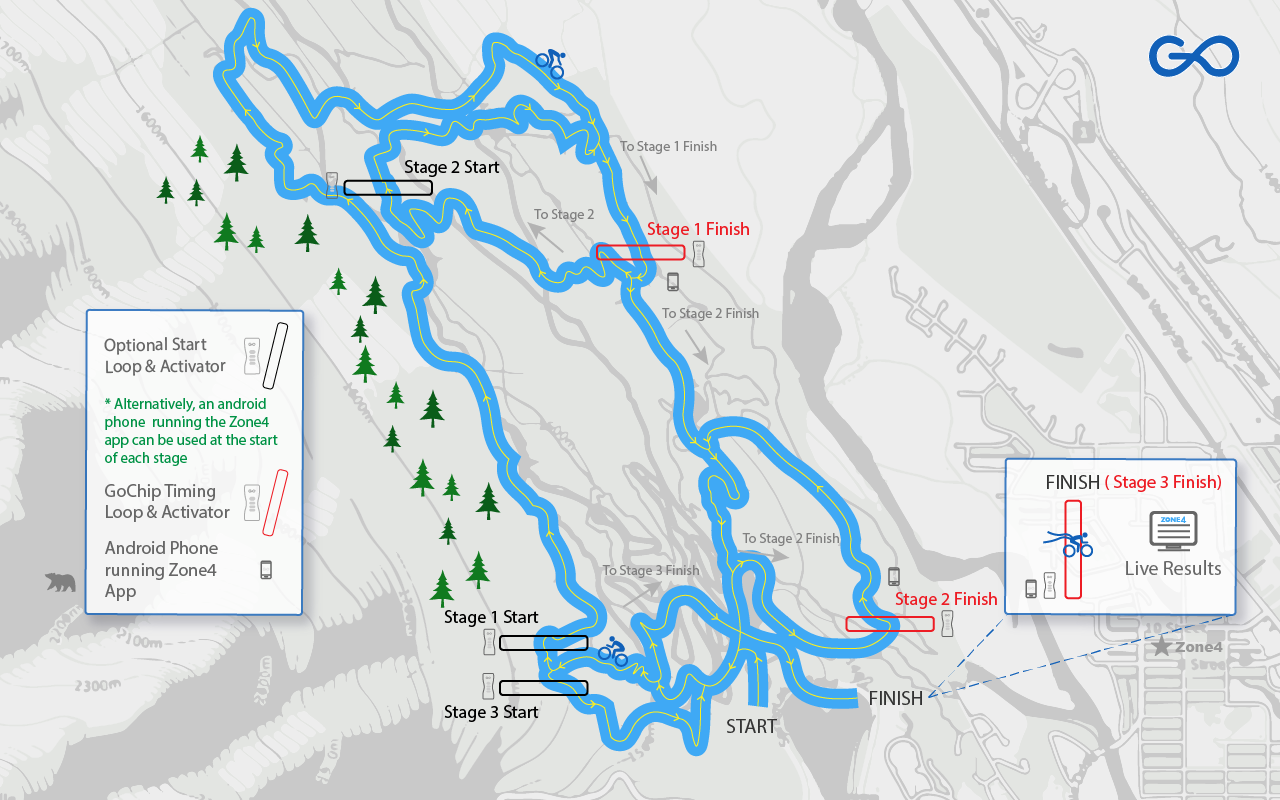 Interested in analyzing racer performance, or want to include checkpoints on your course?
On-course timing points are ideal for timing and analyzing racer performance on specific sections of the course. If you're curious where racers gain or lose time, or when they crossed particular points, on-course timing points let you see exactly what's happening anywhere on the course.
GoChip makes it easy to add as many on-course timing points as you need - the chips carry their times back to the finish line, so you don't need any network connections at remote timing points.
With Zone4 you'll have plenty of time to watch cool mountain bike videos
How much does it cost?
We're glad you asked! Check out the Zone4 Rental Calculator to get an estimate of your total timing cost. If you'd like to try it out for free, we can send you a test kit containing a few timing chips and a GoChip Activator.
Ready to book a timing system? Contact us, and we can get you set up.