Snowboarding
Resorts across Canada are learning that GoChip is the easiest way to host a race. Add some excitement to your ski season by offering fun racing events without a big effort.
Each racer wears an electronic chip on their right ankle above the boot. There is a loop of wire buried in the snow at the start and finish. The racer passes through the start loop, starts the time and completes the time at the finish loop. The GPS and time information is sent to the Zone4 servers through the internet and the times are recorded live and available online through any smart phone. The race organizers use the Zone4 software to provide official result reports on Zone4.ca and a race registration software module is how it all starts.
Start to finish, it's State of the Art.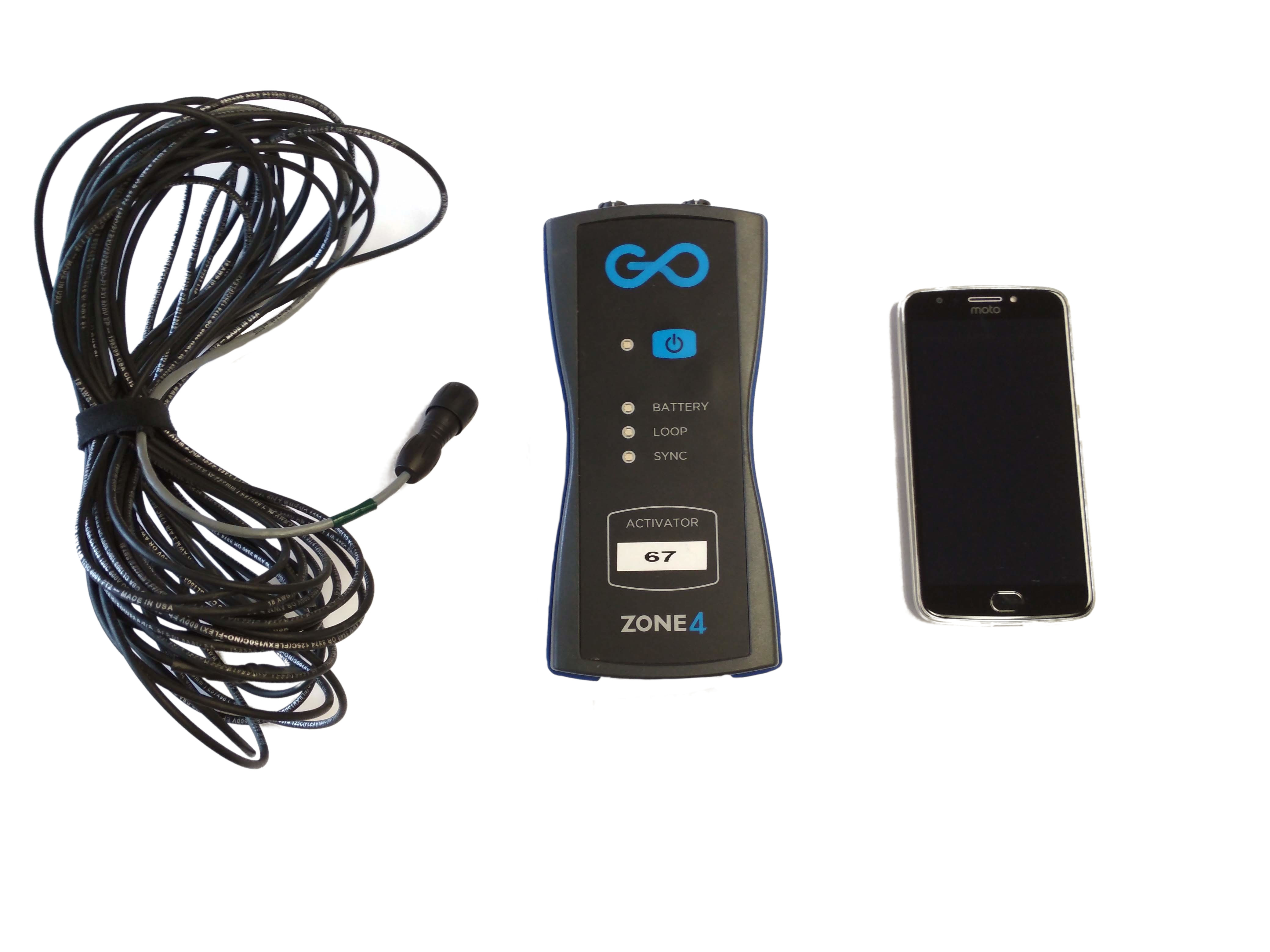 Small and Easy to Set Up
A GoChip timing point can be easily carried to the start or finish line, or you can fit a few in a backpack.
Then you just have to bury the line in the snow. GoChip loops can also be permanently installed during the summer to make setup as easy as just plugging the activator in on race day.
A lightweight and durable timing chip
The GoChip timing chip is durable enough to wear all day, and light enough to forget you're wearing it. It is waterproof and works at temperatures down to -25°C.
Make sure you ask for our alpine straps - they are large enough to fit around a ski boot, our standard straps are meant to fit a racer's bare ankle.
Stop fighting with photocells
The GoChip timing loop gets buried under the snow, and is only triggered by a racer wearing a timing chip. It won't be triggered by blowing snow or other riders who get onto the course.
Your race timing can really be "Set it and Forget it".
Invite a Crowd
There's nothing to reset or clear between runs - You can send racers down the course as quickly as safety allows without waiting for your timing system to catch up.
The timing loops can record multiple people at a time and break ties to a thousandth of a second - perfect for head to head or 4-up racing.
Casual or Serious, it's up to you
The Zone4 timing software lets you create a start list to run a more formal race, or you can just record start times and let racers do their runs in whatever order and at whatever time they like, and enjoy the resort the rest of the day.
Live Results
Your race results will be automatically updated on our website, within seconds of each racer finishing, so racers can see how they did on each run and compare times with their friends.
Of course, you can also choose to keep the results private until an awards ceremony.
No Cell Coverage? No problem
GoChip times are automatically transmitted to the internet over cell networks, but the chips also store and carry their times. If you have no cell coverage at the start, the start time will be transmitted when the racer gets to the finish.
If you're totally out of internet coverage, you can also use our serverbox to time the race offline.
See it in action
Darkside banked slalom at Kicking Horse Mountain Resort was one of the first snowboard races to use the Zone4 GoChip timing system.
How much does it cost?
We're glad you asked! Check out the Zone4 Rental Calculator to get an estimate of your total timing cost. If you'd like to try it out for free, we can send you a test kit containing a few timing chips and a GoChip Activator.
Ready to book a timing system? Contact us, and we can get you set up.